We want you to bee happy with every purchase. If for some reason you are not 100% satisfied with us, please contact us at hello@pure-bee.com and we will try to make it right.
Returns
When you're happy - we're happy. If you aren't 100% satisfied with your PureBee purchase, let us know! We love hearing your feedback - the good, the bad and the ugly - we're always looking for new ways to improve. Because of that we also offer you a 30-day money back guarantee!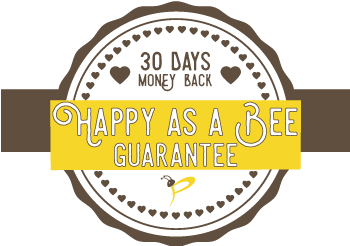 If you are not happy with an item and you would like to return it, contact us within 30 days of the purchase date at hello@pure-bee.com and tell us why you are not happy and we will fully refund you the purchase price!
Finalizing your order
We partnered with an amazing fulfillment center in Dallas, Texas to make sure all our products get to you as quickly as possible. However, that also means we cannot make any changes to an order once it has been placed. Please check your order carefully before you submit it. Orders cannot be canceled under any circumstances after they are placed.
Exchanges
We can only replace items if they are defective or damaged. If you need to exchange it for the same item, contact us via email at hello@pure-bee.com. All our products are handmade with all natural ingredients, therefore our products are subject to variations in color, smell and how they feel on your skin. We produce in small batches, each batch is unique - the slight variations between each batch are not a product defect, but rather a sign of our product quality.
Order errors
In the rare case, we make an error in fulfillment and you receive an incorrect item please contact us via hello@pure-bee.com and we are happy to re-ship you the correct products.
Shipping
The shipping cost depends on the destination and the total weight of the package. The cost of shipping can be calculated by adding the items to your shopping cart and proceeding to checkout. Once you have reached the checkout page, you can select your shipping destination and review the shipping options along with the cost of shipping.

We offer Free Standard U.S. Shipping on orders US$30+

We cannot be held responsible for any theft or damage that occurs if your package is delivered when you are not home. Customers are responsible for any shipping or handling charges that are incurred if a package is refused or returned because no one was able to accept it. Customers are also responsible for paying a reship fee if a shipping address is entered incorrectly.
Additional Shipping Charges
You are responsible for any additional fees charged by the shipping carrier for address corrections. These fees are charged when packages are missing suite numbers, addresses contain typos including zip-code errors, or contain any other incorrect information that is missing or inaccurately supplied by the customer within the "ship to" area of the order form.
Product Availability
Our bees work hard to ensure that all of the merchandise we feature is in stock.

In the unlikely event that an item becomes out of stock after your order is submitted, we will ship the rest of the items in your order and send you an email indicating that one of your selected items is out of stock. We will try to ship the item when it is back in stock.
International orders
We don't offer International Shipping at this time.